In Between: Photography Exhibition
漸漸攝影展
Exhibition Design, Exhibition Production, Navigation System, Silkscreen Printings
Exhibited on 16 Aug–14 Sep 2014
Client/Organiser
kaitak, Centre for Research and Development, Academy of Visual Arts, Hong Kong Baptist University

Curatorial Design

Suk Ki WONG

Exhibition Design

Matthew Long Hei KWAN
Wai Lun HSU @mmmmor

Graphic Design (on-site)
Lai Ping SO

Production

Excellent Colour Ltd. [Photo Printing]
Wai Lun HSU & Lai Ping SO @mmmmor [Silkscreen]
Hang Fai Co. [Sewing]


Exhibited on 16 Aug–14 Sep 2014
In Between is a photography exhibition taking place in an 80-year old historical building compound in Hong Kong 2014. The exhibition comprises over dozens of photography works from professional artists and students, along with some archival materials which spread over the buildings in 20 rooms. Audiences were asked to walk through different locations.

For such a complicated exhibition, we were involved in working on the graphical materials and the exhibition installation design. One of the room requires a wall panel with textual materials encompassing various images, the text was made directly on a wall by transfer printing carbon. The exhibition location is huge that a series of way-finding signages, which indicates different exhibition spaces by the colours and numbers, have been made for the visitors to navigate.

In responding to the theme 'In Between', which stresses on the flow of time, the exhibition statement (English and Traditional Chinese) was screen printed on three huge clothes, hanged and flowing in the middle of the main gallery, to keep the text remains in an unfixed state.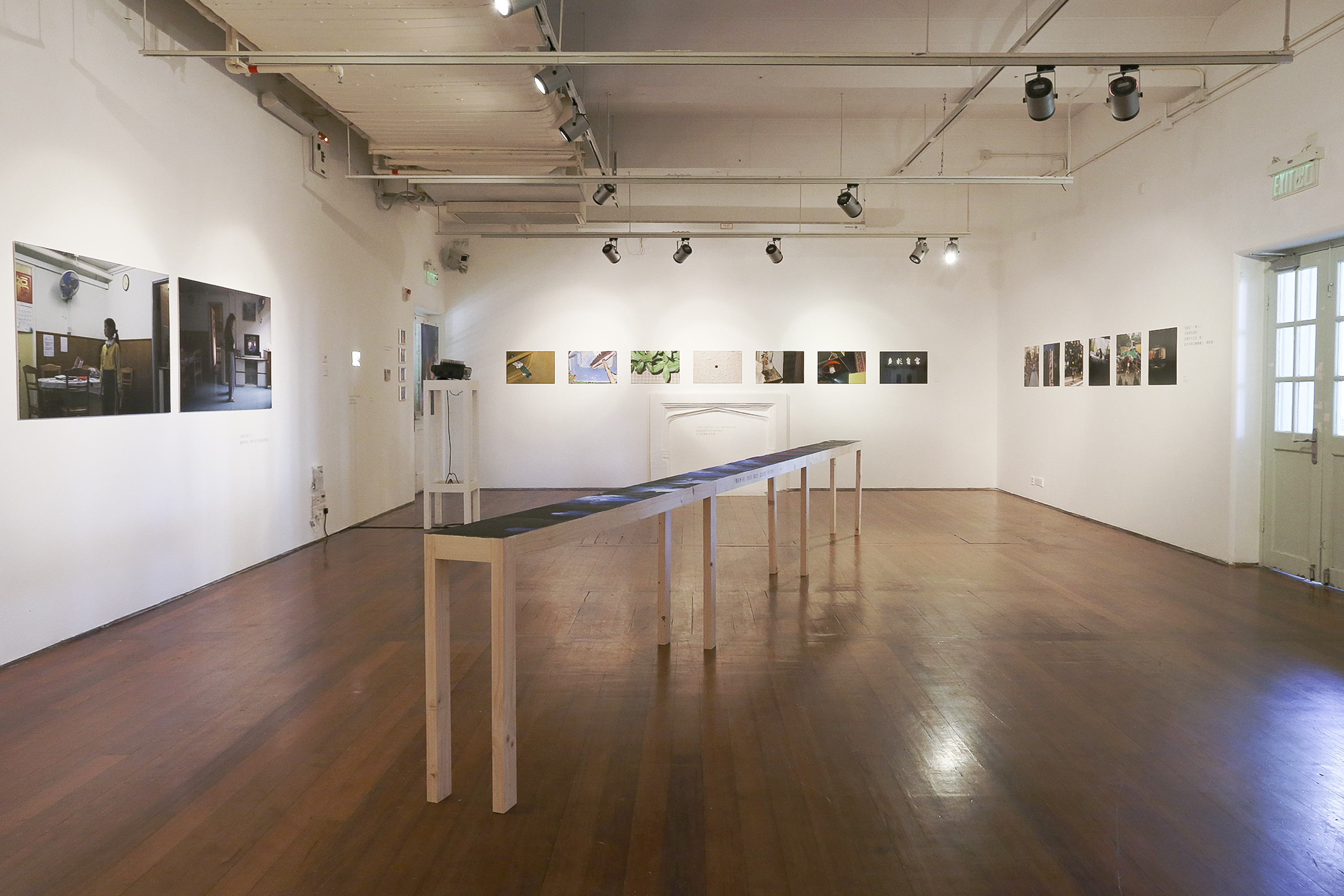 Client/Organiser

kaitak, Centre for Research and Development, Academy of Visual Arts, Hong Kong Baptist University


Curatorial Design Suk Ki WONG
Exhibition Design Matthew Long Hei KWAN, Wai Lun HSU @mmmmor
On-site Graphic Design Lai Ping SO @mmmmor
Production Excellent Colour Ltd. [Photo Printing], Wai Lun HSU & Lai Ping SO @mmmmor [Silkscreen], Hang Fai Co. [Sewing]